Introduced more than a dozen years apart, the Power Mac G4 Cube and Mac Pro trashcan share more than a few similarities. They both look nothing like computers but rather pieces of art. Apple priced them well above the competition, and they both failed spectacularly.
Nevertheless the G4 Cube established a cult following for its fascinating design and functionality. The electrical and mechanical engineering was out of this world especially for 2000. If you ever get a chance to see this G4 Cube in person, make sure to see and touch its bottom. One feature that most love is the latch. It's the most satisfying method of accessing the computer's internals.
It's hard to believe that the Power Mac G4 Cube is almost two decades old. At the turn of the century, Apple barely survived bankruptcy, thanks in large part to the return of Steve Jobs (and capital from Microsoft). Apple bet the house on its clear acrylic design esthetic. The G4 Cube was the most iconic example of Steve Jobs' second tenure at Apple. It brought excitement to the brand that eventually catapulted Apple to where it is today.
"Assembled in USA" is a distinction only a few Apple products share. The Power Mac G4 Cube and Mac Pro trashcan have this in common. These computers were built with pride. As a matter of fact, my personal G4 Cube is now 17 years old and still works just fine. First available July 19th, 2000, this Power Mac was unlike anything else on the market. It was one of the very first personal computers with WiFi among a host of other modern features such as Bluetooth, iSight web camera, DVD burner, and touch-sensitive power button. All these new-to-the-market features were packed into an eight-inch cube without a single cooling fan. The G4 Cube was one of the very first computers with passive cooling.
| | |
| --- | --- |
| | |
The Late 2013 Mac Pro possesses many of the G4 Cube's unique characteristics. The main cooling core is located in the center of the structure. Airflow travels from the bottom to the top vents. Apple attempted passive cooling again with its unconventional desktop design but didn't quite manage it with this iteration. There's a large cooling fan mounted on top to facilitate air flow when the computer needs it.
Steve Jobs had an unhealthy obsession with cube objects. This became apparent when he built the NeXT Cube workstation and later the Apple Power Mac G4 Cube. Unfortunately they were never commercial successes. While Apple stopped selling the G4 Cube one year after its introduction, the Late 2013 Mac Pro is still for sale after nearly four years without much change. In April this year Apple's senior management publicly acknowledged the 2013 Mac Pro had failed to meet its customers' needs and vowed to redeem itself with the new Mac Pro. Under Steve Jobs such admission of fault would not have happened. He simply pulled the plug and pushed his engineers harder to not fail again next time.
| | |
| --- | --- |
| | |
Sandwiched between this Power Mac G4 Cube and Mac Pro trashcan is perhaps one of the most long-lasting and upgradable Macs of all time, the aluminum Mac tower. The tower design began with the Power Mac G5 and became the Mac Pro tower when Apple switched to using Intel processors in 2006. A 2009 Mac Pro tower for example can be upgraded with the latest components such as PCIe solid state drives and current generation desktop graphics cards.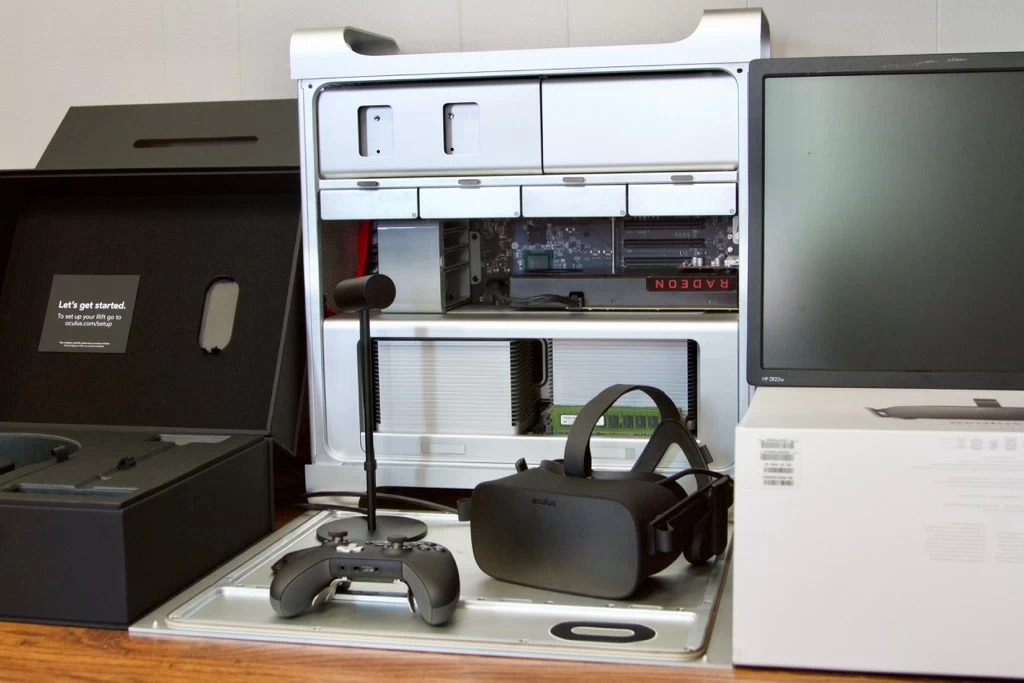 The flexibility and upgradability of the Mac Pro tower design is a huge contrast to both the Power Mac G4 Cube and Mac Pro trashcan. While the tower allows for off-the-shelf computer parts to be used, barely anything inside the Cube or trashcan is standard issue. You can't argue they are amazing computers with top-notch engineering. But that doesn't translate well when they become outdated and need upgrades.
From a service tech perspective, I don't have much to complain about these pro Mac desktops. I've rarely received repair inquiries on them in the nearly twelve years I've been servicing Macs. Upgrade inquiries could be counted on one hand for the G4 Cube and Mac Pro trashcan. The reason is simply due to their many proprietary components.
Successful brands need halo products because they generate lust and excitement. The G4 Cube and Mac Pro trashcan failed commercially, but they succeeded in building a cult following that has kept Apple on top.